TheFarmBoard, public benefit corporation
Our Mission
theFarmBoard was formed to help local sustainable farming economies thrive and grow. Our mission is to positively impact farmer profits, health, sustainability, and food security (including decreasing global hunger).
The problem we solve
No one knows what local sustainable food is available. Chefs, grocers, distributors and aggregators who frequently source from local farms often don't know what is available without communicating. Farm stand customers often don't know what is available without visiting. Farmers market visitors often don't know what they are likely to find at the market. This makes it hard to source locally and has been impeding the health and growth of local economies.
In the absence of theFarmBoard, a typical local farmer emails a weekly rapidly aging harvest list to a number of repeat customers including chefs, grocers, distributors and aggregators. A single customer may receive anywhere between a few and twenty or more of this type of communication throughout the week. This sets the stage for a disorganized, confusing, and sometimes frantic ordering process involving repetitive communication with individual farmers regarding availability. The time and effort it takes to source in this way results in more conventionally distributed food being sourced than is necessary or desired.
The solution
theFarmBoard enables people to know what local sustainable food is available, so that farmers can sell more and buyers can buy more all with less effort.
How it works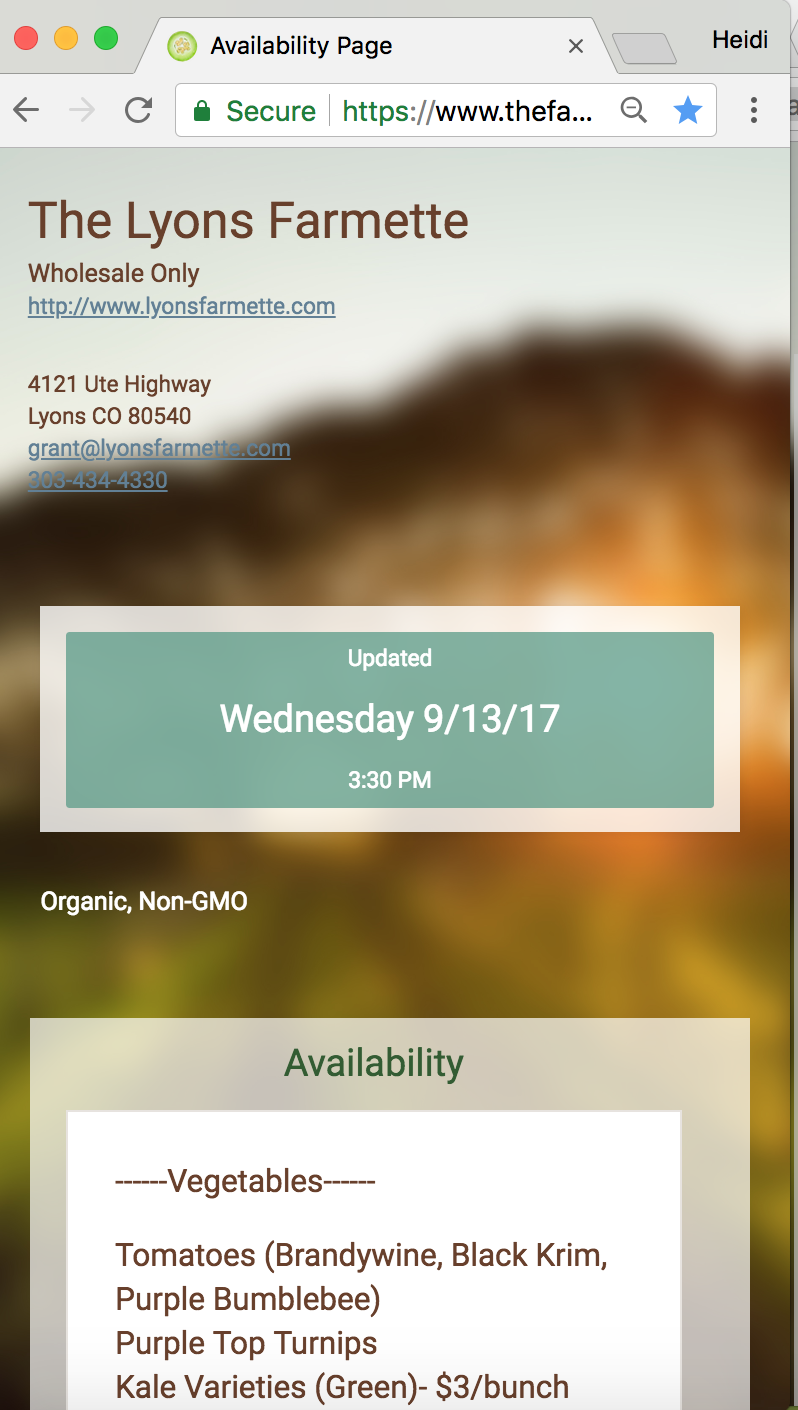 Farmers
You can post up-to-date availability online. You can email or text a link to your availability to all your existing and prospective customers. It takes seconds to make updates with a smart phone in the field. This eliminates the time it takes to craft and send out a weekly harvest list, but more importantly, communication swirl with your customers around availability is eliminated. It is your choice whether or not you add quantity and pricing information to your availability.
You can also
Add a link to your availability to any web page
Freeze your subscription during the off-season
Everyone (without registering or logging in)
To find out what is locally available, you can
Click on and bookmark a farm's availability link for anytime access to up-to-date information.
Click to easily send an availability related email inquiry to a farm.
Search and browse farms and their availability by proximity to an address. Coming Soon!
Search and browse availability at your farmers market if the market and their vendors are using theFarmBoard.
Chefs, Grocers, Distributors, Aggregators, Hunger Organizations
To save time and effort, you can register to create your own private search-able, browse-able list of the farms you frequently source from. You can easily instantly determine if anyone has the product you are looking for.
Farmers Market Managers
With a few minutes of effort, you can increase total visitors and vendor sales by sharing your vendor's up-to-date availability with the public. This enables chefs and consumers to search and browse availability across the market to
Source more at the farmers market
Menu plan based on what is available at the market
Email order requests to specific vendors to be purchased and picked up at the market
When everyone knows what local sustainable food is available, more can be bought and eaten as a total percentage of consumption. More local consumption helps increase farmer profits, health, sustainability, and food security.
Our Commitment
With theFarmBoard application, there is no obligation or contract. Registered users can start and stop at any time. Our business model is to benefit as many local economies as possible. We charge what we hope is a reasonable monthly subscription as an alternative to business models that rely on selling advertising and/or selling access to customer data, which opens their systems up to junk data. We don't collect or share data about you other than in support of helping farmers share up-to-date availability with customers. We are passionate and committed to application simplicity and quality, and are constantly striving for functionality that does not require instruction, a learning curve, or a time commitment.
Thanks for visiting theFarmBoard!